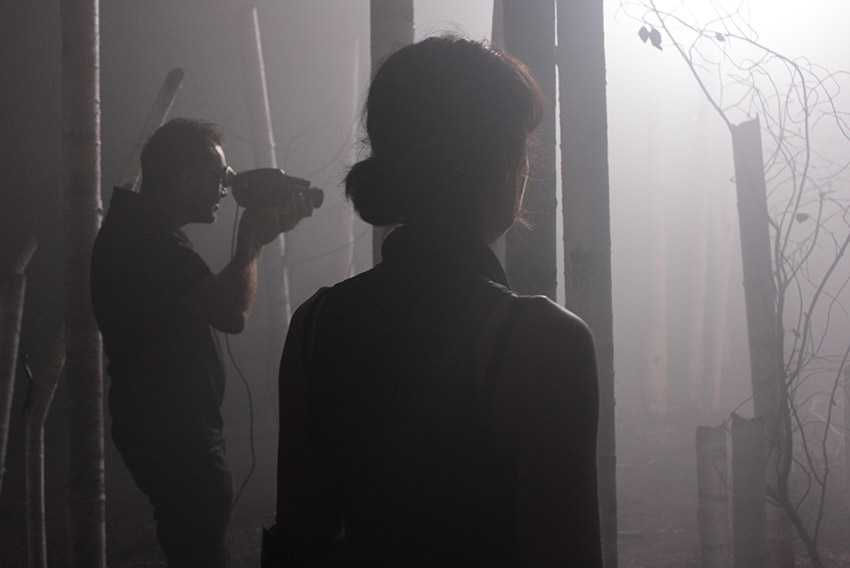 Roz Mortimer is a London-based artist and filmmaker who works with marginalised communities, developing works that communicate complex and traumatic histories. Her earlier works unpicked notions of Englishness and explored human-animal relations, whereas more recent films have focused on specific global locations from the High Arctic to the forests of Poland, telling layered and thought provoking stories which blur the boundaries between staged theatre and documentary whilst challenging our social and political understanding of the world.
Roz originally trained as a textile artist, exhibiting mixed media installations in the UK and Europe before expanding her practice to include film, photography, sound, performance and writing. She began working with moving image in 1995 and since then her award-winning films have been exhibited widely around the world in cinemas, galleries, film festivals, online and on television.
Roz has an MA in Visual Sociology from Goldsmiths, University of London, a PhD in Hybrid Documentary Film from University of Westminster and has lectured at universities in the UK and USA. Her work has been commissioned and supported by Arts Council England, Wellcome Trust, Rockefeller Foundation, British Council, Film London Artist's Moving Image Network, Animate Projects and Channel 4 Television.
Roz's most recent research-led work has been focused on exploring how ghosts and haunting can be used to critically re-evaluate society and our position within it – these works include The Deathless Woman (2019), Traces (2014), Sites of Memory (2011), This is History (after all) (2014), Reduced to Silence (2011-2016), Spectral Cinema (2022). Between 2011 and 2022 she worked closely with the Roma community in the UK and Europe – work that cumulated in her award-winning debut scripted feature The Deathless Woman which premiered at the BFI London Film Festival and the Ji.hlava International Documentary Film Festival and formed the centrepiece of a UK-wide community cohesion tour designed to confront the persecution and prejudice many Roma face in their day to day lives.
Roz's work is produced by Wonderdog Films.